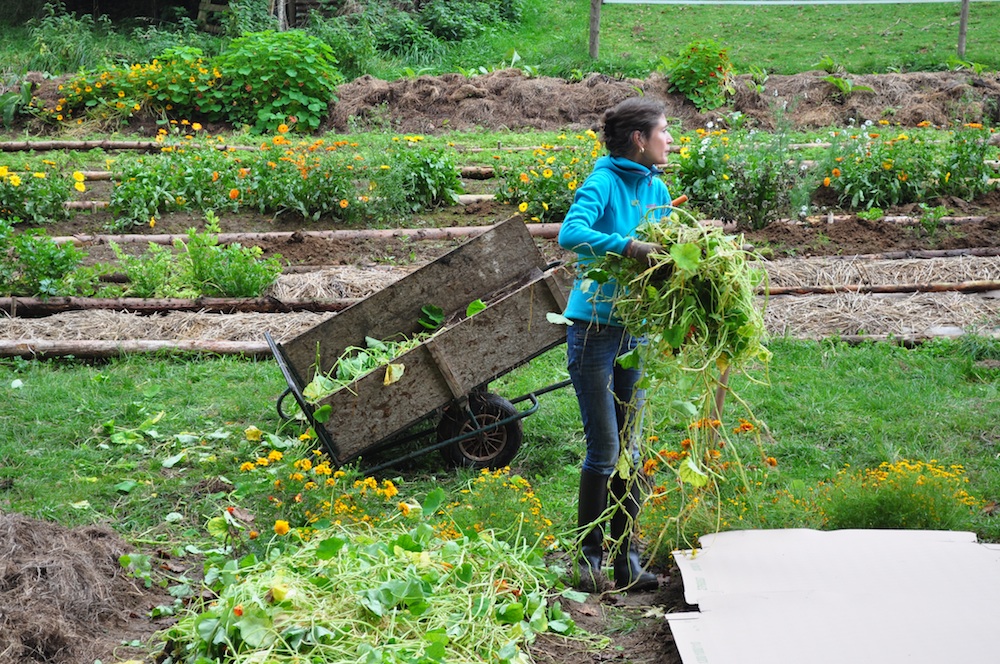 Volunteers can come and volunteer at Bois-le-Comte for 2 weeks up to several months. You can contribute in the kitchen, in the household, in the garden and by doing small jobs.
General atmosphere
The emphasis during your stay lies on working together, but there is enough time and space left to enjoy the beautiful surroundings and the good company :) .There are a lot of possibilities for organizing activities for yourself or together with others: walking in the woods, meditating at the source, reading a book under the oak or by the stove, resting in the courtyard, singing by the piano or simply sharing and talking around the kitchen table ...
Practical organization
Wwoofers are asked you to come for a period of minimum 2 weeks.

You arrive in Bois-le-Comte between 3 and 4 pm. On your last day you leave at the same time. On your day of arrival there will be an info moment at 4 pm for all new workers. Don't miss this moment, our host will not have time to inform you extensively later on. If you have any questions or concerns during your stay you can talk to him/her.

You work about *5 hours* a day. You get board and lodging in return for your service. (We don't pay travel expenses.) You will probably be operating in a team as well as working on your own so it is good if you are able to do and like doing both.

You have one day off for every 6 days worked (when you stay here for minimum 2 weeks). When you get your day off depends on possibilities and work, so these days are agreed on while planning together, according the schedule. Please communicate in time if you want a specific day free; the sooner we know the better the chance that it will be possible.

You eat together with the other volunteers and the tasks related to this are shared: set and clear the table, wash the dishes, maintain order in the common rooms (help prepare the meals with the other workers when no cook is present, which is rather exceptional). These tasks are not included in the *5 hours* work per day.

Volunteers and workers sleep in two-bedded rooms in the workers house. The sleeping facilities are cleaned by the workers and the volunteers themselves.

Family or friends can have a meal or stay overnight if there is space. Your guests pay the same price as other guests (see > guest prices)

We will ask you to work wherever your help is most needed (often this will be in the kitchen). We will take your preferences and talents into account as much as we can.
Kitchen volunteers
You work under supervision of a professional cook. He/she will help you with any questions or remarks regarding the kitchen work.

There are 3 shifts a day (breakfast, lunch and dinner). The breakfast shift is done by a staff member or someone else who already knows this job, volunteers/wwoofers help in the other shifts. The cook will inform you about work times. We usually eat at 8.30, 12.30 en 6.30 pm and start the lunch shift at 10.15 am and the evening shift at 4.15 pm. This can vary a little bit according to eating times, the menu and the number of guests & workers.

Depending on how many guests and groups we have, the cook will work with 1 up to 8 assistants. In most periods he will have about 3 assistants. If the number of co-volunteers is important to you, ask us about it before fixing a period.
Other volunteers
Standard work shifts are from 9.30 – 12.30 am and from 3.30-6.30 pm including tea breaks. These hours can be adapted when needed by the person in charge.

You also help with setting and clearing the table and with dish washing (see above). If there is no cook, you also cook together with the other wwoofers/volunteers/workers. If it is important for you that there is a cook, check this with us before fixing a period to come.


Garden work

Those who want to work in the garden have the following options:

Garden weeks (for everyone): one week in March - April - May - June - September - October and November (mail us for the exact dates). This is voluntary work on the same conditions as mentioned above. However, work shift hours may be adapted in function of the weather and the season. In Summer, when the weather is very hot, we may start working in the garden before breakfast and continue after dinner, to be able to take an extra long break in the afternoon. In Winter we may start an hour earlier in the afternoon so that we can stop before darkness.

Outside these garden weeks experienced organic gardeners coming for +10 days can also (partially) work in the garden. We expect them to be able to garden autonomously, efficiently and at a reasonable pace. This implies amongst others being able to distinguish weeds from (small) garden plants, knowing how to sow (outside and in trays) and plant, how to harvest vegetables, how to compost, mulch, prune, ...

Try to get your motivation and expectations as clear as possible and choose your period accordingly. Do you want lots of social contacts? Then come in busy Summer or during holidays or ask us when there will be many people around. Or bring a friend! Do you want some time for self-reflexion, rest, intimacy and are you happy to work alone ? Then choose a quiet period in Spring or Autumn…
Kitchen
washing and cutting vegetables – setting the tables – making tea – washing the kitchen ware and cleaning the tables (groups do their own washing up and table cleaning) - cleaning the kitchen and refrigerators - emptying and cleaning the rubbish bins – ...
Small jobs
carrying out small repares in and around the house – painting - helping with new constructions - ...
Household
decoration and maintenance of the rooms: taking care of the plants, the flyers,… - household tasks: doing the laundry, preparing bed linen sets, put in order cupboards,… - helping in the kitchen at peak moments – organizing accessories for workshops and groups – keeping the sanitary facilities clean in between the cleaning by the cleaning woman – waste management – helping with the seasonal cleaning up (stock-taking, first-aid boxes, …) – ...
Sleeping facilities
Wwoofers/volunteers and workers sleep in the workers house which has 6 two-bedded rooms. In case you would prefer to sleep alone, you'd better bring your own tent with you if you come in Summer.
A nice and clean environment is pleasant and stimulating. We therefore ask you to keep the workers house clean and tidy during your stay and to leave it so for those who come after you. By making time and giving attention to this you will not only create a nice environment but also an atmosphere of care for yourself and for each other.
Bedding & towels
You will need a towel, a pillowcase and sheets or a sleeping bag. You can bring yours, or if this is not possible you can obtain a set of sheets & a towel from the house at the expense of € 5. Guests pay € 10 euros for a set, but volunteers only pay the cost of the laundry.
Meals
WWoofers/volunteers and workers eat together. We also clean and wash dishes all together.
The kitchen is inspired by macrobiotics and offers balanced, accessible, 100% organic and vegetarian meals. We prefer fresh and local ingredients and we do not use animal products in our meals. Dairy foods such as butter, milk and yoghurt are available at breakfast. We do not use sugar but we do use natural sweeteners such as maple syrup. We do not offer real coffee except upon special request at breakfast.
We hope that you, as a volunteer, can share our enthusiasm about our kitchen and our food choices.
Our kitchen is meant for healthy people. Special dietary requests can not always be taken into account. Gluten- and soy-free are not a problem but if you have other needs please check with us what is possible before making arrangements to come.
Quiet
For many of us the peace and quiet of this place are very beneficial. We ask you to respect this quiet especially between 10 p.m. and 8 a.m. Please remember that the workers house has very thin walls and the courtyard is a very accute sounding board.
Ecological products
Water flows from two natural springs. There is a purification installation to clean the dirty water after use. This is one of the reasons why we only use natural detergents. We invite you to take into account the natural cycle and use biodegradable soaps and shampoos.

Animals
We have a border collie, cats, horses and ducks. You will only see the dogs and the cats outside, they are not allowed inside the residence.
Please do not bring your own pets with you.

Washing machine
If you are working here for 2 weeks or more you can use the washing machine and the airing cupboard. (For ecological reasons we only use the airing cupboard when it is impossible to dry the laundry outside.) If you want to wash or dry your clothes, please consult us first to fix the appropriate moment.
Bar
Water, bancha tea, herb tea and cereal coffee are free of charge and available on the buffet throughout the day. Other organic drinks and snacks are for sale. Bar consumptions are paid to the host every week and at breakfast on your last day here. You can only pay in cash in euros. Payment by paycards or creditcards is not possible, the nearest cash dispenser is in Florenville, 12 km away.Bringing drinks & snacks from elsewhere is not allowed.
Telephone & internet
Mobile phones do not work everywhere inside the residence, and we would like to limit radiation; we ask you not to use your mobile phone excessively and not to use it in the common rooms or in the courtyard. Please put your phone out at least at night. You can also use the telephone in the office according to the tariffs in use (see office).
If you give our telephone number to someone else, please ask them to use it only if they really need to reach you and to call only during office hours; at other times noone will answer the phone.
Wifi is available on request during daytime. For urgent matters you can also use internet, fax or the computer during the opening hours of the office if the appliance you need is not already in use and if it does not slow down the internet connection. Do not count on being able to have access to internet or e-mail any time of the day. Our internet connection is slow and it is primarily used for the administration of the center. Thank you for your understanding.
Other important things
- If you are challenged in some way, we invite you to speak straightforwardly with whomever you need to (and no one else). We appreciate open, sincere and clear communication.
- We ask you not to use the space in this centre for thoughtlessly starting a new or temporary relationship. Take care that your experiences can be integrated into your daily life and that you can live up to your commitments.
- Smoking is only allowed outside. Be courteous and do not smoke in the presence of non-smokers, windows, doors and foods (tables, vegetable garden, greenhouse, ...).
- Drugs and improper use of alcohol are not tolerated and are a reason for immediately stopping the cooperation. If you need alcohol to survive, this might not be the right place for you to stay. The sames is true, to some extent, for sugar (soda) and coffee.
- Respect the privacy of the groups and their work spaces.
- We sometimes use photos of Bois-le-Comte in our communication (mainly our facebook page & website). Please inform us on your arrival if you object to us publishing photos on which you can be recognized.
How to find us?
See travel description.
We expect you to arrive at Bois-le-Comte by your own means and to leave by your own means. For your return back (and sometimes for your arrival too), carpooling is often possible. Contact us if you need any information or help.
Yes, I have an interest! And now?
Complete the application form, send it to orval@owc.be and contact us to fix a period.
We wish you an enjoyable and inspiring stay!
"I blame my Belgian adventure on changing my lifestyle forever." - Chloë, 10/2017 (wwoofing here in Spring 2012)
Thank you all for the great time together. So simple, so harmonious, so … 'as it is' and can be. I seldom experienced the same thing, it is a bit like paradise. This is also why people escape from paradise I think: not the present moment but the confrontation with especially the past that has been different … . It is the pain of the lack of that harmony that drives us away from paradise. At least that's how I feel it.
'Bright eyes' is a beautiful song, these are the eyes that I saw the last couple of days, showing the life force and appetite, love, enthusiasm, … . Thank you all for sharing that with me.
I wish you all a great life and hope to meet each of you again one day, in the kitchen, the garden, at the bar, behind or in front." - Tom, 04/2011